---
Welcome to Civil and Structural Engineering Software
---
New Newsletter Oct 2019 available.
---
AIOne-Artificial Intelligence Software
---
AIOne Products Launch in 2023. We have delay the product launch to year end of 2022 or 2023
Our products are ONLY available through our channel or iReka Konsult-Sabah. NO OTHER PARTIES ARE AUTHORISED TO SELL OUR PRODUCTS
General AIOne Summary

| Activity | Market Software | AIOne |
| --- | --- | --- |
| 1st Design | No | Auto |
| Go Home Early | No | Yes |
| Task draft person clearly define | No | Yes |
| Task engineer clearly define | No | Yes |
| Data Preparation | User | Auto |
| Data Entry | User | Auto |
| Computation | User | Auto |
| Profile | User | Auto |
| Report | User | Auto |
| Full 3D Model | User | Auto |
| 3D CAD Drawing | No | Auto |
| Drafting | User | User |
---
Our Infra Package 2020 consists of ZeonEarth(signature product), ZeonStorm(best selling product), xDrain, xSewer and xWater.
FREE Quick Review Civil Engineering Project-VALUE ENGINEERING:
You have any civil engineering project need a quick review! Now we offer a quick review on VALUE ENGINEERING for earthworks, drainage, stormwater and erosion and sediment control. Contact us at email: techsupport@civilstructural.com.my
Signature Product:
Zeon Earth 3.5-3D Earthworks software in Malaysia is available. An earhtworks software can make your earthworks design ready by TOMMORROW. We have more than 150 users within pre MCO Sept-Nov 2019 and post MCO June 2020. Find out more. Buy Zeon Earth Limited Edition Online
Best Selling:
Zeon Storm 6.0-Detention Pond Software in Malaysia. Detention System includes Detention pond and onsite detention OSD software. Now with Sabah and Sarawak rainfall stations upto year 2018 data.
---
---
Products of the year 2021
core MSMA suite 2020-A comprehensive MSMA software which covers all chapters of Urban Stormwater Management Manual for Malaysia 2nd Edition(MSMA2)
X-Series Applications
X Series. Infrastructure applications. xDrain, xSewer and xWater.
Third Party CAD application-BricsCAD
BricsCAD. Our recommended alternative CAD software. Now available call us for more info.
---
2021 Highlights-Essential Engineering Series Books
Our 1st printed engineering books in Aug 2019. Software cannot come without technical write up. This will be our path to serve communities better. As we understanding, there are limited resources on the engineering books in real practical aspects.
With more than 10 years in software market, our experience more than 20 years design experiences, more than 8years past events feedbacks, our clients comments, this is where we can produce an enrich contents on technical write up from theories up to practicality issue.
Beginning Programming in AutoCAD 2022 in C#.
Design a Drainage System- Price RM580.00
An approach you never learned in Erosion and Sediment Control Plan Design- Price RM580.00
Water Supply Design-Step by Step- Price RM300.00
Infra Design-Getting Started in 33 Days (400pages)-2020 Edition- Price RM600.00Buy here from Lazada
Essential of On-site detention Book- Price RM100.00
Common problems in Earthworks Design Book- Price RM40.00
Beginning Programming in BricsCAD V20 in C# and ZWCAD 2020 in C#. Now available Dec 2019. Contact us for more info. Special order.Read more
Essential of Earthworks Book- Price RM210.00Read more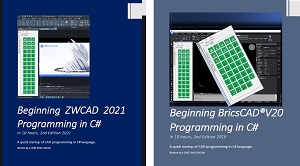 Beginning Programming in AutoCAD in C# and BricsCAD in C# or VB.NET start from 1/12/16
Want to buy our books. Buy here...
---
2022 Events
Our main official events. One of our product of service will be the technical talks. The main purpose of technical event is to equip you with the technical knowhow, so you will be able to adopt the knowledge into our products.
17 Sept 2022-Introduction to CAD application in 1 day, IEM HQ
Digital classes are subjected to change without prior notice. Interested! Please register in advance to reserve seat.
Visit here for our past Events .
---
---
We have been developed civil and structural engineering software since 1994. In year 2006, we started introduce our engineering products in Malaysia market. Til now, it has been taken more than 13 years in market and more than 24 years in civil and structural software development. Currently, we have large clients based especially in civil and structural consulting engineers. Til today, we have been sold more than 3000 copies of software. In order to help our customers-civil and structural engineers, we will keep on developing new applications, enhance and update existing applications. Through the time, we will release new products and updates for any existing applications.
---
---
---
---
Our news?
Jan 2022 ZeonEarth 5.0 Launched- 3D earthworks software
Nov 2021 ZeonEarth SE 5.0 Preview- A software for ESCP
Oct 2021 ZeonEarth 5.0 Preview - Next level
Dec 2020 ZeonRoad Preview - Road Design
ZeonEarth SE 4.0
2020 Infra Design-Getting Started in 33 days released Nov 2021
ZeonEarth 3.5
Pre-view AIOne
2019 Essential of Earthworks book released Aug 2019
2019 Digital Classes are introduced in Malaysia
One new modules IntelliDrain Preview is going to add into core MSMA suite 2018.
XSeries is added into products
Two new modules added to core MSMA suite 2018. iDesign and EcoPlant.
Events 2017 updated 16/8/2017. Preview 3D Slope on Zeon Earth
Events 2017 updated 23/6/2017.
Pre-release myESCP-Erosion and Sediment Control Plan
1st newsletter May 2017.
Flow Map.
xCAD Version 2.0. CAD utilities up to 73 modules.
Aquator addon updated guildeline for SAJ.
Rainwater Harvesting edition Beta edition released
Zeon Storm edition Beta edition released
Drain+ and Sewer+ with new updates such as comprehesive report. Beta edition released
Tank modeler with new template.
Truss detailing edition coming soon...
Bricscad CAD Programming in C# or VB.NET book.
Zeon Viewer-3D terrain generator from land surveyor drawing
xBrics-Surveyor CAD utilities in Bricscad platform
BricsSection-Cross section in Bricscad platform
Zeon Brics-Earthworks in Bricscad platform
ZeonStorm-Urban Stormwater MSMA second edition for module OSD and detention basin
Drain+(Drainage) and Sewer+(Sewerage) with new improved 3D view. Clash analysis inclusive of Aquator-Water reticulation pipeline