---
HIGHLIGHT-Industrial Collaboration
Lastest news.
Memorandum of Understanding(MOU) with UNIVERSITI TENAGA NASIONAL SDN BHD(Uniten)
Our products development cannot move without industrial collaboration. Besides, industrial partner such as G&P Water & Maritime Sdn Bhd.
Now, we also move into education level which based on our skill and knowledge, we can help our education to move parallel with industrial. It will further enhance our products quality. R&D and joint development with our reputable universities in Malaysia such as UPM and UNITEN. Stay tune. More news coming..
---
2019 Highlights-Essential of Earthworks Book
We are please to annouce that we will release our 1st printed engineering books in year 2019. Software cannot come without technical write up. This will be our path to serve communities better. As we understanding, there are limited resources on the engineering books in real practical aspects.
With more than 10 years in software market, our experience more than 20 years design experiences, more than 8years past events feedbacks, our clients comments, this is where we can produce an enrich contents on technical write up from theories up to practicality issue.
Essential of Earthworks Book- Status:Completed. Reviewing...Read more

Coming soon. Essential of Stormwater Management Book. Status:Finalizing...Read more
The Essential of Earthworks Book will comes with a complimentary Classic edition of ZeonEarth-Our signature 3D Earthworks software.
Interested on these books. Estimated price of book in below RM200.00. Please drop us emaail to sales@civilstructural.com.my with title of "Essential of Earthworks Book" or "Essential of Stormwater Managment Book", Kindly provide your contact info
Name:
Contact no:
Email:
Comapany:if any
Address:
We will inform you once it is official release in early of year 2019. The final content of books will subjected to change without prior notice.
---
2018 FINAL Events
18,21,28/12 2018 UNITEN Stormwater Course 3 days
---
Welcome to Civil and Structural Engineering Software
We have been developed civil and structural engineering software since 1994. In year 2006, we started introduce our engineering products in Malaysia market. Til now, it has been taken more than 10 years in market and more than 21 years in civil and structural software development. Currently, we have large clients based especially in civil and structural consulting engineers. Til today, we have been sold more than 3000 copies of software. In order to help our customers-civil and structural engineers, we will keep on developing new applications, enhance and update existing applications. Through the time, we will release new products and updates for any existing applications.
From now onward, we will be concentrated our manpower to our main development team. With this move, we will able to delivery better engineering products development in term of qualities, values, knowledge and productivity; where we can meet our vision below.
"Our vision is to build civil and structural engineering applications to help engineers"
It is easy to build a software but NOT easy to build a GOOD for civil and structural engineering software
---
X-Series 2018 Applications
Our anticiptape products for year 2018. X Series. Infrastructure applications. xStorm, xDrain, xSewer and xWater. Next generation products which now support open source software.
Products of the year 2018
Our products of the year 2018 are core MSMA suite-A comprehensive MSMA software which covers all chapters of Urban Stormwater Management Manual for Malaysia 2nd Edition(MSMA2)
Signature Product
Our signature product ZeonEarth-An application that can provide a quick count on cut and fill volume
---
---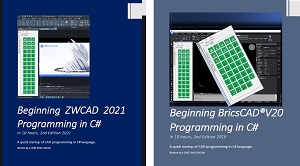 Three new books on Beginning Programming in AutoCAD in C# and BricsCAD in C# or VB.NET start from 1/12/16
Our products list such as Urban Stormwater Management(MSMA), Earthworks, Erosion and Sediment Control Plan, Culvert, Pump Station, Drainage, Sewerage, Water Reticulation, RC Euro/BS beam, RC Euro/BS Slab, STAAD tank modeler
Therefore, we have a number of productivity products which has been group into such as Storm package, CAD package, Civil engineering package and also structural package.
CAD package mainly run in Bricscad platform. Now our new xBrics, ZEON EARTH and VIEWER-can run in Bricscad platform version 16. xBrics is land surveyor CAD utilities, ZEON Earth is an earthworks computation and ZEON Viewer is 3D terrain generator.
Storm package is the apps that mainly in stormwater.
Civil engineering package is the apps for earthworks, water supply, drainage and sewerage.
Free earthworks ebook Click here
---
What news?
One new modules IntelliDrain Preview is going to add into core MSMA suite 2018.
XSeries is added into products
Two new modules added to core MSMA suite 2018. iDesign and EcoPlant.
Events 2017 updated 16/8/2017. Preview 3D Slope on Zeon Earth
Events 2017 updated 23/6/2017.
Pre-release myESCP-Erosion and Sediment Control Plan
1st newsletter May 2017.
Flow Map.
xCAD Version 2.0. CAD utilities up to 73 modules.
Aquator addon updated guildeline for SAJ.
Rainwater Harvesting edition Beta edition released
Zeon Storm edition Beta edition released
Drain+ and Sewer+ with new updates such as comprehesive report. Beta edition released
Tank modeler with new template.
Truss detailing edition coming soon...
Bricscad CAD Programming in C# or VB.NET book.
Zeon Viewer-3D terrain generator from land surveyor drawing
xBrics-Surveyor CAD utilities in Bricscad platform
BricsSection-Cross section in Bricscad platform
Zeon Brics-Earthworks in Bricscad platform
xStorm-Urban Stormwater MSMA second edition for module OSD and detention basin
Drain+(Drainage) and Sewer+(Sewerage) with new improved 3D view. Clash analysis inclusive of Aquator-Water reticulation pipeline
Seminars
29/11,13/12 and 20/12 2018 UPM Water Supply Course 3 days

24th Nov 2018 IEM Johor An introduction to EPA Stormwater Management Model(SWMM) 1 day workshop

15-16 Nov 2018. Universiti Putra Malaysia. Concept, Theories and Practices -Application of Urban Stormwater Management Manual for Malaysia 2nd edition (MSMA)-Most comprehensive course more than 250 slides to share with real projects.

17-18th Oct 2018 Applied Technology Group Training Centre, SS15, Subang Jaya, Selangor VBA in EXCEL 2 days course

6th Oct 2018 IEM PJ BRICSCAD BIM 1 day workshop. 7CPD

25th Sept 2018 IEM Penang An introduction to EPA Stormwater Management Model(SWMM) 1 day workshop.

12-13th Sept 2018 Sarawak Two days short course on Application of Sarawak Stormwater Management (SUStoM) Guideline in Local Design and Practice

9th Aug 2018 IEM PJ BRICSCAD BIM-A BIM application that you can do it by All in One from Sketch, design to BIM 3CPD
20th Mar 2018 IEM Sarawak DIGITAL EDITION OF URBAN STORMWATER MANAGEMENT MANUAL FOR MALAYSIA (MSMA) 2ND EDITION WITH SUSTOM - 6.5 CPD
21st Dec 2017 IEM Kelantan 1 Day seminar on Digital Edition of Urban Stormwater Management for Malaysia 2nd Edition
29th Sept 2017 IEM Pahang 6.5 CPD. 1 Days seminar on Programming for Engineers- How programming can help engineers?
25th July 2017 IEM Penang 3 CPD. 1/2 Day seminar on Programming for Engineers- How programming can help engineers?
8th July 2017 IEM JOHOR 6 CPD. One Day seminar on Programming for Engineers- How programming can help engineers?
4/3/2017.Half Day seminar on Programming for Engineers (Part1)- How programming can help engineers?Click here for more info
25/2/2017.One Day Workshop on Programming for Engineers (Part2)- Visual Studio Community IDE.Click here for more info
Completed event at IEM, PJ, Malaysia. Event talk on "Programming for Engineers" 10-11-2016 IEM HQ
Last seminar was held at IEM, PJ, Malaysia. One day seminar on "Water supply-pipeline design by manually and computer" 23-4-2014 IEM HQ
Two-day talk on "Hands-on Workshop on Urban Drainage Design based on JPS MSMA Guidelines"8-9-10-2013 ACEM KL
Half-day talk on "Black Box of Infrastructure Software"14-4-2012 IEM Johor
Two-days talk on "Advance Excel For Engineers"19-12-2009 Wawasan Professional Training Centre
Latest activity
Newsletter